AtKisson Network: 7 Questions with Mark Olsthoorn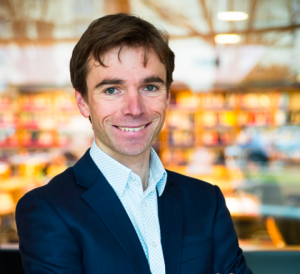 A postdoctoral researcher at Grenoble Ecole de Management in the Energy Management research group, Mark Olsthoorn combines an engineering background with strategic management know-how and a systems perspective to investigate data and uncover new insights within sustainability and energy innovation. His areas of expertise include innovation adoption, systems thinking, sustainable development, and economics & technology management. He's been a member of AtKisson Group since 2012.
Q: Why did you start working with sustainability? When did that happen?
A: Back in 2002, when I was a doing my master's in aerospace engineering, I joined a solar car racing team. I had recently become aware of the unsustainable nature of our reliance on fossil fuels and felt an urge to work on alternative, clean energy sources. Together with 11 students, I  helped design and build the solar powered race car Nuna 2, with which we went on to win the 2003 World Solar Challenge.
Q: What was your first professional role working with sustainability?
A: In 2006, I joined IMSA Amsterdam, a small yet influential sustainability and innovation 'resultancy' based in Amsterdam, the Netherlands.
Q: What do you "bring to the table"? What are your areas of expertise? What do you enjoy working on?
A: I'm a natural systems thinker with an eye for commonalities between concepts, problems, and people. I'm a realist, sceptical yet optimistic. I have strong quantitative skills in both engineering and social science (PhD in business administration). I have broad experience from both the private sector and academia. In recent years, I've specialized in the diffusion of energy efficient technologies, which is the topic of my PhD thesis.
Q: What's the most challenging part of your work?
A: Staying relevant. Doing transdisciplinary work in a system that's geared toward specialization. Being both transdisciplinary and scientific is challenging.
Q: What's the most rewarding part of your work?
A: Finding stories in data. Being read and cited.
Q: What is one positive impact (big or small) you've made with your work in the past year that you feel especially good about?
A: I feel best about my teaching work, trying to up the quantitative game of management students.
Q: How does the sustainability landscape look in the world today, through your eyes? What are the most promising trends or opportunities you see?
A: It's looking both bleak and good at the same time. On the one hand, factions with no interest in sustainability are gaining political power in countries across the world and the climate seems to be changing very very fast. Nonetheless, the frequency with which reality throws positive surprises is increasing, too; e.g., the cost of renewables coming down quickly, citizen groups defying the logic of centralized businesses, businesses and cities getting serious about transition. It makes one wonder: is the cow out of the barn? The best opportunity, which has been around for years, frankly, is to connect the anger and problems of the people that make 'Trump' possible to the innovations, investments, and transformation work required (e.g. greening of the housing stock) to solve the climate, economic, and security crises. More and more solutions reach the stage where they can act as catalyzers of system change.
---
AtKisson Group is a global network of firms, university-based offices, and individual practitioners working to accelerate transformative change for sustainability. Learn more about our network members here.