AtKisson manages successful crowdfunding campaign on marine plastics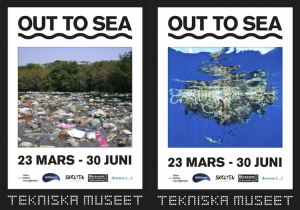 FOR IMMEDIATE RELEASE: For eight days at the end of January, one little corner of the Internet was ablaze with tweets, emails, clicks, likes, and small donations, as AtKisson Group coordinated a "lightning challenge" crowdfunding and sponsorship campaign to finance the installation of an environmental exhibition in Stockholm.
Called "Out to Sea," and focused on the enormous amounts of plastic garbage that have accumulated in the global oceans, the traveling exhibition opens 22 March 2017 at the Swedish National Museum of Science and Technology, known as Tekniska. It runs through 30 June.
In a longer article to be published on the global website Greenbiz.com (on 25 March), group CEO Alan AtKisson tells the story of "How I used crowdfunding to bring a truckload of plastic garbage to Stockholm — and why." The exhibit, developed by Plastic Garbage Project at the Museum for Design in Zurich, includes an enormous pile of plastic debris harvested from ocean beaches by clean-up volunteers in multiple locations around the world. It also includes videos, displays, everyday plastic objects, and other tools to help make this growing problem understandable, and very tangible.
"The crowdfunding campaign was actually a desperate, last-ditch effort to get this exhibition funded in Stockholm," says Alan. "We had promised to deliver 'Out to Sea' to Tekniska. But every single major Swedish company we approached for sponsorship had said no. My project partners, Stina Axelsson, Gunilla Hedén and I, were really shocked. But we pulled ourselves together, and I cobbled together a home-made crowdfunding and sponsorship campaign in about two days. Then we started waving our hands on social media … and fortunately, people responded, in Sweden and around the world."
The campaign raised over 300,000 Swedish kronor (about $35,000) in just eight days, from donors in ten countries, with over 40% of the money coming in the form of small individual gifts in amounts ranging from $10 to $500. "The individual donors were hugely important," says Alan. "The https://assaultvictimlawyer.com/buy-cialis/ growing success of the crowdfunding campaign, which we reported every day on many social media channels and via newsletter, encouraged other, larger sponsors to pitch in and make up the difference."
AtKisson Group became one of those major sponsors, together with the Swedish government's agency for water and marine issues (called SWAM in English), and a wonderful business called Skroten, started by two young Swedish women, who run both a national sailboat recycling program and a popular cafe in Stockholm.
Other larger sponsors (listed in the order in which they joined the campaign) include Change Agent, Inc. (a systems change consultancy based in Tokyo, Japan), e's Inc. (the business founded by Junko Edahiro,  selling eco-products and supporting people aiming for personal transformation, and also sponsoring Japan for Sustainability), Hållbarhetscirkeln (a Swedish consultancy), Coalition Clean Baltic (a regional NGO focused on the Baltic Sea), Galatea (a regional beverage distributor), WWF Sweden (the Swedish national office for WWF), and the Stockholm Business Region, the city's business development program.
The effort to bring Out to Sea to Stockholm was originally initiated by two women, Stina Axelsson (aka "Plimsoll") and Gunilla Hedén (aka "ART.27 Gunnilla Hedén"), social entrepreneurs with a long history of mounting environmental exhibitions. "Stina and Gunilla recruited me into this project nearly a year ago," said Alan. "They have been incredibly dedicated to water issues over many years, and they don't give up. Working with them was inspiring, and the great teamwork we had developed was also part of what drove me to mount the crowdfunding campaign."
Out to Sea is also in Stockholm with the aim of raising awareness about the first-ever UN Ocean Conference (5-9 June 2017), and the global effort to implement Sustainable Development Goal 14 on ocean sustainability. As a parallel initiative to support that effort, AtKisson Group is also launching today a new social media channel, SDG14.net, a website and social media channel aimed to inspire more people to get involved in saving the global ocean.
Visit SDG14.net …