AtKisson Group releases Accelerator Lite – FREE
Now available in "Free" and "Fair Price" versions: One of the world's most widely used toolkits for sustainable development, in simplified form
Click here to go straight to the download page
FOR IMMEDIATE RELEASE
In celebration of the upcoming global agreement on the Sustainable Development Goals, AtKisson Group is today releasing a simplified version of its widely used professional tools for sustainable development, the Accelerator.
The new Accelerator Lite package — for use in educational and non-commercial settings — includes user-friendly, introductory versions of these popular tools:
The Sustainability Compass, for presenting sustainability or helping it to understand it as a whole-systems concept (Nature, Economy, Society, Wellbeing)
The Pyramid workshop, for collaborative learning and planning (the workshop involves building a pyramid, either physically or virtually), and
The Amoeba role-playing game, to introduce the concept of being a "Sustainability Change Agent" and for learning how to introduce new ideas to groups more successfully
The Accelerator Lite package — which comes with manuals and PowerPoint slides — shows you how to use the tools in teaching, presenting, or working with the SDGs.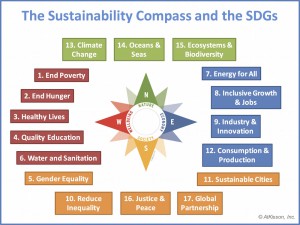 "We were very happy to note that the new SDGs line up almost perfectly around our Sustainability Compass," said Alan AtKisson, CEO of AtKisson Group. "So we thought, we need to make these tools — which have been used by schools and companies and communities around the world — more widely available."
To ensure that anyone can use the Accelerator Lite tools, AtKisson Group is making a free version prominently available, alongside a "fair price" version (US $59). "If people can afford to buy, that's great, they should buy it" said Alan, "because that will make it possible for us to keep giving it away to those without the means. It will also help support our other non-profit ventures."
But he insists that free also means free. "There is no difference between the two versions," he added. "We take the UN's call for the SDGs to be universal very seriously. Everybody needs to get on board and make sustainable development happen. Making Accelerator Lite universally available can help."
At the same time, AtKisson Group is relaxing the terms for licensing its full professional set of Accelerator tools. "Previously, we insisted on people getting trained by us before licensing. Now, we'll make it possible for qualified professionals to acquire a license. Accelerator Pro comes with detailed manuals for creating indicators, doing corporate sustainability assessments, running planning sessions and a lot more. Training will be recommended, but optional."
Licensing terms permit the use of the Accelerator Lite tools in educational and non-commercial contexts. For more information, visit the Accelerator Lite download page.