News from AtKisson Group: Our growing "handprint"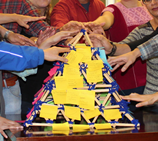 AtKisson Group is now 22 years young, and we are pleased to report that our "handprint" — a word that means our reach and positive impact — is still growing. We are reaching into more countries, more cultures, with our mixture of robust, science-based sustainability assessments and strategies, creative tools and methods, and a focus on helping the people who make sustainability happen.
Of course, if we're growing, that means that our footprint is also growing. As a network of small private firms, university centers of expertise, foundations, and experienced individual practitioners, in fifteen countries, it is difficult indeed to accurately measure either our footprint or our handprint. In the future, we hope to document the extent to which our handprint offsets our footprint. Is that possible? We will look into it and let you know.
Meanwhile, here is some internal news from our extended global network — just a sampler of what we are actually doing these days. What's missing? There are also projects going on in Russia, Indonesia, Belize, and several other countries. We'll tell you about those another time! Let's start now with Kuwait.
AtKisson Group signs consulting agreement with Al-Sayer Group (Kuwait)
ASG is a large holding company with enterprises in the automotive, retail, industrial and engineering sectors. As a family-owned company, it is serious about long-term thinking and about sustainability. Al-Sayer sought out AtKisson Group to help it design a new sustainability program and reporting process for the company. Work kicked off this month. We are very pleased to be working so intensively with this leading regional company.
AtKisson Group completes a report on the "Blue Economy" (the sea & sustainability)
We recently submitted a 64-page report (plus annexes) to a major international client about what is happening with sustainability and economic development in the sea — the so-called "Blue Economy." (The report is not yet public.) We are increasingly working on the 2/3 of the planet that is water: earlier this year we also helped the Swedish Government with a series of consultation meetings focused on the basis for the country's new Marine Spatial Plan. Stay tuned for more Blue Economy news in the near future.
"Competitive Sustainability" workshop continues to make inroads
How do you quickly show business people what it means to run a company more sustainably? With a simulation exercise. How do you get them really "into it"? By making it a competitive game.
Senior Associates Axel Klimek (Germany) and Piotr Magnuszewski (Poland) have been running our new "Competitive Sustainability" workshop with large corporate clients, to a very positive reception. The new workshop combines the "Green & Great" sustainable business simulator with a fast-paced Pyramid workshop exercise, giving participants an intensive one-day introduction to sustainability management, systems thinking, and innovating for positive change.
Contact us
for more details.
---
Interested in attending an upcoming training workshops on sustainability tools and leadership, hosted by the Sasin Graduate Institute of Management in Bangkok, Thailand? Click here >>
Back to the newsletter …
---
Alan AtKisson completes service for Pres. Barroso; Council publishes final report
For the last two years Alan AtKisson (Sweden) has been working (on a volunteer basis) as an advisor to Pres. Barroso of the European Commission, as a member of his Science and Technology Advisory Council. With President Barroso stepping down at the end of October, the Council is also stepping down. But the Council concluded its service with a very well-received report, forecasting trends and making recommendations, called "The Future of Europe is Science." The report is just 20 pages, easy to ready, chock full of fascinating information, and of interest to anyone who is interested in science and sustainability (not just in Europe). It's available here for free download:
Compass Education going to China, developing certificate programs, & more
The AtKisson Group's Compass Education team (which works with schools and teachers and is in the process of spinning off to become an NGO) will be presenting intensive workshops as part of a large international conference in China, and it is also fast developing new curricula and other materials to support its well-structured training program. You can now pursue our whole-system training on education and sustainability through three levels, each with certification standards and requirements. The team is also being strongly supported by its first-ever student intern, Daniel Um, a recent graduate from Manila International School. Daniel was also a student leader in the Global Issues Network conference, in 2012, that used the Pyramid workshop to such great impact — and gave rise to the Pyramid 2012 campaign … which gave rise to the Pyramid 2030 initiative. Be sure to sign up for the new education newsletter, Compass Points, and watch developments at
http://CompassEducation.org
Alan AtKisson to do a "TEDx Talk" in Uppsala, Sweden …
On Nov. 15, Alan will participate in a TEDx event at Uppsala University that has the theme "Who Cares?" He will deliver a classic 18-minute TED talk with the provocative title, "How to create a global art project that can involve thousands of people and change the world." He will use that opportunity to tell the story of Compass and Pyramid, and try to summarize how they grew and spread, and the kinds of impacts they have had around the world. He's talking about this as a "global art project" because (and this has been semi-secret unless you read Alan's personal blog) that's actually part of how AtKisson Group got started. These days, tools like Pyramid are widely used in business and government. The TEDx talk will focus on how creativity and serious change can go hand in hand.
… as well as other speaking events:
Alan will also be delivering keynotes at the Nordic Global Compact conference in Stockholm next month, as well as the international Urban Futures conference in Graz, Austria. And he will serve as moderator for the on-stage interview with the winner of this year's Gothenburg Award for Sustainable Development (think of it as the Nobel for sustainability), Paul Polman, CEO of Unilever. Alan will also moderate a panel discussion there on leadership, systems change, and sustainability with Polman and four other Swedish leaders in business and government. Here is the announcement page, in English:
http://www.gothenburgaward.com/en/
Change Agent Inc. client Toshiba wins awards for green technology
We are happy to report that our affiliate in Japan, Change Agent Inc., has been working with Toshiba to promote their new, much-greener technology for copying and printing. The AtKisson Group network helped, by researching appropriate awards for which Toshiba could apply. And Toshiba won two awards! The technology is a copier/printer that uses special toner that can be erased. Printed paper is fed back through the machine, scanned, then erased, and the paper re-used, up to five times (reducing paper consumption by 80%). Just Google on the phrase "
Toshiba e-STUDIO 306LP MFP
" to get more info, including demo videos.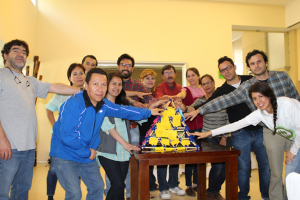 Pyramids in Mexico advance collaborative policy making on climate and forests
Our
Pyramid 2030
initiative keeps on spreading, now into Mexico, where senior environmental consultant Cuauhtemoc León has really taken "Pyramid Lite" and run with it. Most recently he used Pyramid Lite to help the federal government of Mexico develop new goals and policy ideas under the "REDD+" program (which works to preserve forests as carbon sinks). Here's a picture: that's Cuauhtemoc on the far left.
If you don't know about Pyramid 2030 yet: that's our volunteer initiative to get people using the Pyramid Lite workshop (it's free) and engaging with issues like how to implement the new UN Sustainable Development Goals (which we also work to support in a consulting capacity). Are you interested? Visit the website: 
Pyramid2030.net
Thanks for reading! Can AtKisson Group be of help to you? Do you want to be a part of what we do in some way?
Please contact us …
… and keep on reaching for sustainability.